About
Linear Friction Welding is a solid-state welding process in which heat is generated by friction due to the lateral motion of one of the parts to be joined. Once the surfaces get hot enough to become plastic, a forge force is applied to join them together. This is widely in Aerospace for manufacturing integrated bladed disks (blisks) for aero-engines. Linear Friction welding is seeing increasing adoption in other areas too, like Automobile, Medical Shipbuilding etc.
Advantages and Benefits of our Linear Friction Welding Machines
Below are some of the key features of our machines which makes them among the best in the world.
ETA follows a consultative engagement model with customers as we understand that each customer requirement provides unique challenges.
Such experiences makes us innovate and bring such technologies to mainstream.
---
Linear Friction Welding Machines
Max. forge force : 100kN
Max. linear rubbing frequency : 50Hz
Linear motion to slide : Through crank,driven by AC spindle motor
Amplitude : 3mm
Load control : By Servo hydraulics
Linear Friction Welding is a solid-state joining process similar to rotary friction welding.

Automotive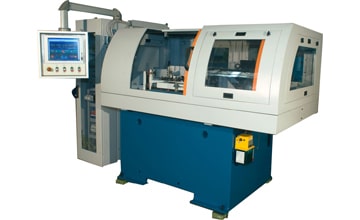 Looking for the Best Engineering Solution for your Project?
/ Give us a call or mail us now..