This machine is used for slot cutting of commutator risers. The job is rotated for one turn and the angular position of every copper segment is recorded by means of a laser sensor. Now the job is precisely positioned such that the slotting cutter can cut the first slot in the middle of the segment. After every slot the job is indexed by the precise angular displacement and all slots are cut. Jobs are loaded and unloaded automatically. Average cycle time (floor to floor) for a 23 segment commutator is 16 seconds.
In twin head machines up to 6 slots can be cut in a second.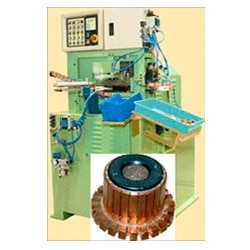 Similar Products
You may also want to look into other machines from similar product series
Looking for the Best Engineering Solution for your Project?
/ Give us a call or mail us now..