About
This is a computerized stand alone system, designed to perform Yoke Setting operations with programmable controlled parameters. Automatic tightening of Yoke Cover to achieve required input pinion torque and yoke lift within set tolerance range is achieved by this machine. All controls are driven by a standalone dedicated real time hardware (cRIO / PXI) and HMI are on MS OS based PC. Online / Offline plots and displays with reports & results offer flexibility in data analysis
No. of Stations: 1
No. of Models: X1, X2, Indica, Indigo.
Steering loading: Manual
Spring loading: Manual
Yoke Cover Loading: Manual
Cover Torque: 35 Nmtr Max
Cover Rotation Speed: 0 to 99 % Max
Valve Shaft Drive Speed: 60 rpm. Max
Valve Shaft Drive Torque: 18 Nmtr.
Lift Sensor Range: ± 7 mm
Lift Sensor Resolution: 1 micron
This is a computerized stand alone system, designed to perform Yoke Setting operations with programmable controlled parameters

Automotive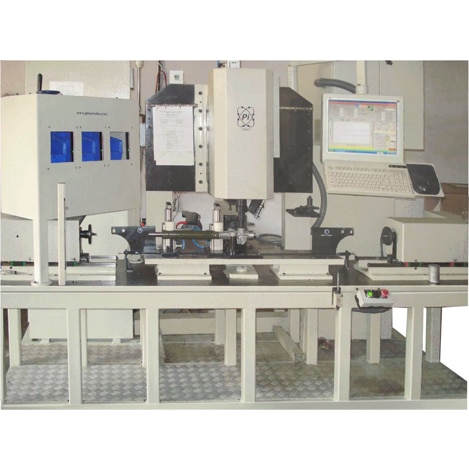 Auto yoke cover torqueing
Auto yoke lift measurement
Auto input torque test
Lift >5 μm and <80 μm
Real time controls with MS OS based host for HMI
Online / Offline plots and displays with reports & results offer
flexibility in data analysis.
Similar Products
You may also want to look into other machines from similar product series
Looking for the Best Engineering Solution for your Project?
/ Give us a call or mail us now..