Ball Turning and Burnishing Machine (BTBM) is used for turning and burnishing of ball head used in automobile ball joints (steering gears, for e.g). There is an optional CNC slide ( Z-axis) to machine the undercut relief behind the ball head. Sphericity achieved on the ball head is within 4μ and surface finish better than 0.1 μRa which is among the most accurate ones in the industry. Machine can be tooled up for Inner Ball Joint (IBJ), Inner Ball Joint (OBJ) and Suspension Ball Joint (SBJ) Ball pins.
Machines for Ball Valve Industry are also available.
Ball diameter Turned / Burnished : 15mm – 40mm
X-Axis Stroke (Spindle head slide) : 160mm
C-Axis rotation (Rotary Head) : -5 º to 150º clockwise
W-Axis (Turning tool slide) adjustment : 12mm max.
Max. Thrust of burnishing too : 2500N (spring loaded)
Surface finish attained : 0.1µ Ra
- Sphericity achieved : 4 µm
- Depth of cut : upto 2mm 



Automotive
CNC Profile Turning and Burnishing Machine with integral spindle
Features
Any job where the hardness is less than 40HRC and which needs grinding after turning can be economically manufactured by turning–cum–burnishing method. In this machine there is provision for three axis ( Z, X & A) interpolation of tool to machine and burnish any profile.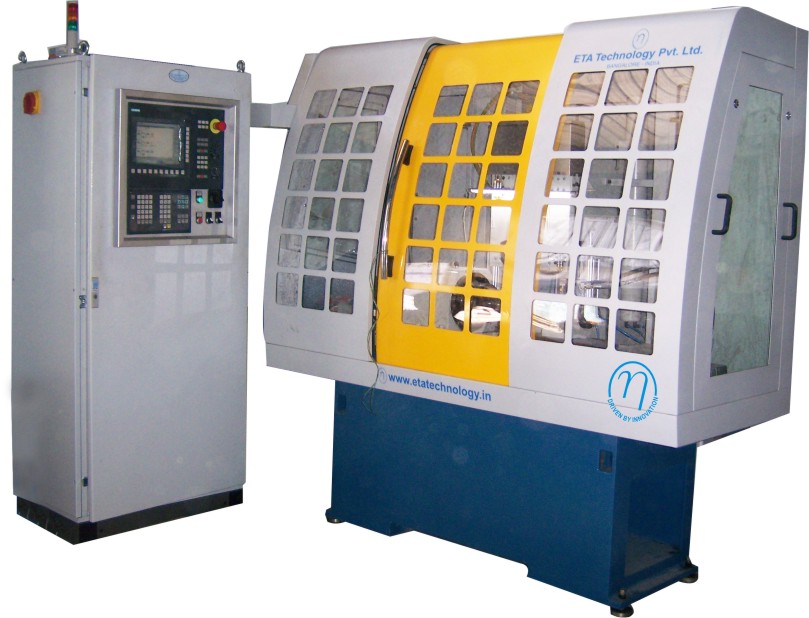 Spindle torque : 48Nm
Spindle speed : 0 - 4000rpm
X-axis stroke : 150mm
Z-Axis stroke : 150mm
A-Axis rotation (tool) : 360º
Max. thrust of burnishing tool : 1000N (spring loaded)
Control system : Siemens CNC



Automotive
Similar Products
You may also want to look into other machines from similar product series
Looking for the Best Engineering Solution for your Project?
/ Give us a call or mail us now..